The Colors of Christmas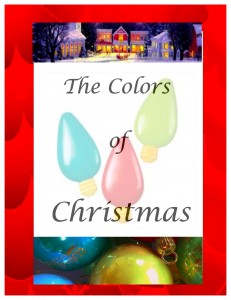 An important aspect of any Christian preschool education is helping the children to understand that our world belongs to God. Every aspect of creation gives glory to God. Teaching preschoolers to celebrate the sights, sounds, tastes, textures, and odors of this world is at the heart of Christian preschool education.
"The Colors of Christmas" tells the Christmas narrative of Jesus' Birth in a fun, memorable, and creative way while celebrating a common preschool theme — colors.
Like any traditional Christmas pagaent, this play incorporates Mary and Joseph, Bethlehem, the experience of no room in the inn, shepherds, wise men, the star, the announcements of angels, etc. And it does so in a fresh and creative way that is sure to connect with the audience.
Song titles include:
The Colors of Christmas (Theme Song)
Green and Red, Did Your Hear What I Said?
Black and Blue, Sometimes I Feel It Too
A Really, Really Wooly White Christmas
Shout Yellow
For a sample of the script, click here.
PURCHASE
Sample of the Lyric Videos