Christmas Presents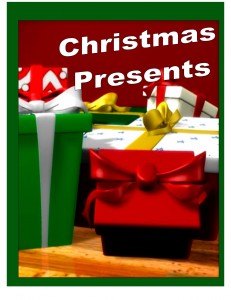 A very exciting aspect of Christmas for every child is the giving and receiving of Christmas presents. An important aspect of any Christian preschool education is helping the children to understand that God gave us the greatest gift of all–His Son. Although this gift wasn't wrapped in shiny paper and ribbons, teaching preschoolers to celebrate this gift at Christmas time is very important.
"Christmas Presents" tells the Christmas narrative of Jesus' Birth in a fun, memorable, and creative way.
Like any traditional Christmas pagaent, this play incorporates Mary and Joseph, Bethlehem, the experience of no room in the inn, shepherds, wise men, the star, the announcements of angels, etc. And it does so in a fresh and creative way that is sure to connect with the audience.
The greatest Christmas gift ever was not wrapped in pretty paper and placed under a tree, but was born in a manger in lonely Bethlehem.
If you are looking for:
a creative Christmas pageant for your school or class
an easy-to-use and easy-to-implement Christmas musical for 2 to 5 year old children
a play that is imaginative and inventive in its incorporation of music and narrative
a highly adaptive play that can be used by both small and large groups alike
a Christmas pageant that will faithfully tell the story of Jesus' birth from a distinctly Christian perspective
"Christmas Presents" is for you!!!!
Song titles include:
Christmas Presents (Theme Song)
Wonderful World (I'm Growing Up)
Wrapped Without a Bow
Go Tell It On The Mountain
Little Drummer Boy
For a sample of the script, click here.
Purchase Now