Counting Down to Christmas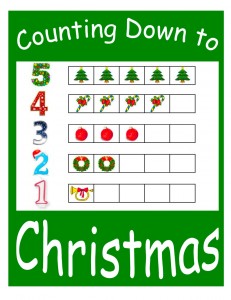 One of the biggest themes in Preschool education involves numbers and counting. Counting is so fun to do. God made numbers to help us keep track of things. We can count our toys. We can count people. And we can even count days…days until Christmas!
If you are looking for:
a creative Christmas pageant for your school or class
an easy-to-use and easy-to-implement Christmas musical for 2 to 5 year old children
a play that is imaginative and inventive in its incorporation of music and narrative
a highly adaptive play that can be used by both small and large groups alike
a Christmas pageant that will faithfully tell the story of Jesus' birth from a distinctly Christian perspective
"Counting Down to Christmas"
is just for you!
Best of all, we understand that your life as a preschool director/teacher can be very, very busy. You need a Christmas play that turns out wonderfully but requires a minimal amount of rehearsal. So, we have put everything together for you to make your preparation as easy as can be! When you purchase "Counting Down to Christmas," not only will you receive a full script of the play, but you will also receive full symphonic performance audio tracks as well as vocal demonstration tracks of all the songs to be sung in the Christmas pageant. No musicians needed!! Also available are lyric videos (see sample below) that show the lyrics of each song and can be projected during the pageant!
Song titles include:
Counting Down to Christmas (Theme Song)
Four Shepherds
Three Wisemen
Just Two
Silent Night
For a sample of the script, click here.
Purchase Now