Easter Play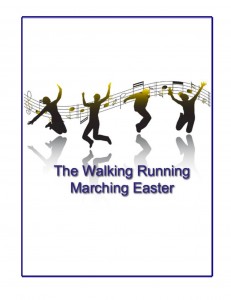 An important aspect of any Christian education is helping the children to understand that our world belongs to God. Every aspect of creation gives glory to God. The bodies that God gives us are fearfully and wonderfully made. We celebrate the fact that we can run, walk, jump, skip, march, and dance.
"The Walking Running Marching Easter" tells the story of Jesus' resurrection in a fun, memorable, and creative way. Historic Christian doctrine teaches the resurrection of the body (see the Apostles' Creed). This play celebrates the fact that, because of Easter and Jesus' resurrection, our bodies will one day be resurrected as well (1 Corinthians 15).
Like any traditional Easter pagaent, this play incorporates Mary Magdalene and the other Mary, an angel, guards, Peter and John, the two men on the road to Emmaus, a group of disciples, and Jesus. And it does so in a fresh and creative way that is sure to connect with the audience.
Song titles include:
The Walking Running Marching Easter (Theme Song)
Roll That Stone Away
Run to the Tomb
Walking the Road to Emmaus
We are Marching
For a sample of the script, click here.
 Sample of the Lyric Video